Watching the Red Sox-A's postgame breakdown by ESPN... and for some reason the talking heads solicit Bobby Valentine's advice on the quality of Japanese players. Bobby decided to address Kosuke Fukudome first [paraphrased from TV]:

He's a very good player.

Great.

He can really play the outfield - always throws to the right base.

Wow. Really, Steve? You're touting the guy as a legitimate major-leaguer, and you decide that the first detail you need to mention is not that he has power, or a sweet swing, or a strong arm... but that he THROWS TO THE RIGHT BASE?! Third graders can do that!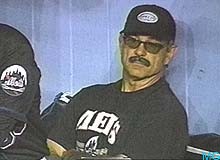 Thanks, Bobby. Go back to your hole.